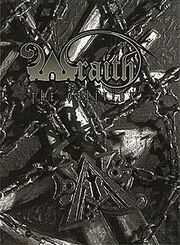 Wraith: The Oblivion is a tabletop role-playing game designed by Mark Rein·Hagen. It is set in the afterlife of White Wolf Publishing's classic World of Darkness setting, in which the players take on characters who are recently dead and are now ghosts.
Wraith: The Oblivion features an artistically consistent depiction of the afterlife and strong emotional themes, but was the least commercially popular of the World of Darkness games. White Wolf discontinued their production of the game line in 1999, leaving some planned material unpublished.
Following the game's cancellation in 1999, White Wolf revisited some of Wraith's themes in their role-playing miniseries Orpheus. Their 2009 release, Geist: The Sin-Eaters, worked as something of a spiritual successor to Wraith: the Oblivion. In 2011, online role-playing game store DriveThruRPG.com began offering the Wraith: the Oblivion books in a print on demand format through the DriveThruRPG website, making all books available for purchase once again. A 20th Anniversary print edition has also been announced by Onyx Path Publishing. This was released in August 2018.
Description
The game of Wraith: The Oblivion sets the players as characters who have recently died and found themselves within a grim afterlife. Characters have the options of struggling to find a means of ascending into a 'true' afterlife (referred to in the game as Transcendence), becoming embroiled in the politics of the afterlife's denizens, or gradually succumbing to the dreaded Oblivion that seeks to devour all newly deceased souls.
Wraiths draw their strengths from the passions that held them to the living world. In game-terms, each character possesses Fetters, representing an object, place or person which binds them to the world of the living, and Passions, representing an emotion that they have not resolved. Fetters allow a Wraith to remain close to the world of the living, while Passions allow them to gain emotional energy to sustain themselves. However, each Wraith also possesses a secondary personality called a Shadow. Their Shadow, often portrayed by another player, works to assert dominance over the character. The Shadow's motives are always self-destruction of the Wraith. With a mix of emotional fetters and the confrontational play style that the Shadow presents, games of Wraith: The Oblivion are often powerfully emotive.