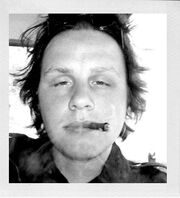 William Pauley III is an American author of bizarro fiction. He was born in San Antonio, TX on July 31, 1984. He currently resides in Lexington, KY, where he lives with his wife and two children. He is the founder/co-editor of the bizarro/horror/sci-fi blogzine, The New Flesh, and the author of several books, including: The Brothers Crunk - An 8-Bit Fack-it-all Adventure in 2D, Doom Magnetic!, and his upcoming book Demolition Ya-Ya. He has heat-ray eyes that are powerful enough to melt cheese. [citation needed]
External Links
Community content is available under
CC-BY-SA
unless otherwise noted.