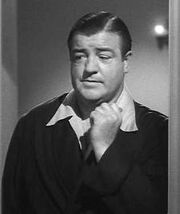 Wilbur Grey, played by Lou Costello, along with Chick Young, are the two bumbling protagonists in the 1948 film Abbott and Costello Meet Frankenstein.
Wilbur Grey works with Chick Young in a baggage business. They transport two crates to McDougal's House Of Horrors, a wax museum owned by a demanding Mr. McDougal. Wilbur quickly discovers the two crates contain Count Dracula and Frankenstein's Monster, though Chick Young doesn't believe him.
Before long, the two find themselves facing off against the two legendary monsters with the help of Lawrence Talbot until the full moon turns him into the Wolf Man.