| | | | | |
| --- | --- | --- | --- | --- |
| Books | Movies | Music | Timeline | Slideshow |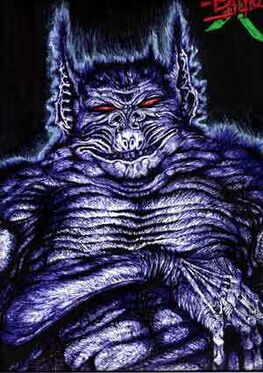 Tsathoggua (the Sleeper of N'kai) is a supernatural entity in the Cthulhu Mythos shared fictional universe. He is the creation of Clark Ashton Smith and is part of his Hyperborean cycle.
Tsathoggua (or Zhothaqquah) is described as an Old One, a godlike being from the pantheon. He was invented in Smith's short story "The Tale of Satampra Zeiros", written in 1929 and published in the November 1931 issue of Weird Tales. His first appearance in print, however, was in H. P. Lovecraft's story "The Whisperer in Darkness", written in 1930 and published in the August 1931 Weird Tales.
Description
The first description of Tsathoggua occurs in "The Tale of Satampra Zeiros", in which the protagonists encounter one of the entity's idols:
He was very squat and pot-bellied, his head was more like a monstrous toad than a deity, and his whole body was covered with an imitation of short fur, giving somehow a vague sensation of both the bat and the sloth. His sleepy lids were half-lowered over his globular eyes; and the tip of a queer tongue issued from his fat mouth.
Later, in Smith's "The Seven Geases" (1933), Tsathoggua is described again:
In that secret cave in the bowels of Voormithadreth . . . abides from eldermost eons the god Tsathoggua. You shall know Tsathoggua by his great girth and his batlike furriness and the look of a sleepy black toad which he has eternally. He will rise not from his place, even in the ravening of hunger, but will wait in divine slothfulness for the sacrifice.
—Clark Ashton Smith, "The Seven Geases"
Robert M. Price notes that "Lovecraft's Tsathoggua and Smith's differ at practically every point." Lovecraft, dropping Smith's bat and sloth comparisons, refers to the entity in "The Whisperer in Darkness" as the "amorphous, toad-like god-creature mentioned in the Pnakotic Manuscripts and the Necronomicon and the Commoriom myth-cycle preserved by the Atlantean high-priest Klarkash-Ton" (—the priest's name was Lovecraft's nickname for Tsathoggua's creator).
Later, in "The Horror in the Museum", a story ghost-written by Lovecraft, he writes,
"Black Tsathoggua moulded itself from a toad-like gargoyle to a sinuous line with hundreds of rudimentary feet."
He also mentions it in "At the Mountains of Madness", in a paragraph mentioning several other gods.