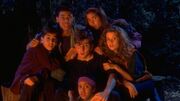 The Midnight Society is featured in the Are You Afraid of the Dark? television and book series.
The Midnight Society is comprised of a carefully selected group of friends and peers who gather at midnight at a secret location in the woods and tell scary stories around a fire. There have been rotating members throughout the years ever since its founding in 1937.
Each story submitted by members is prefaced with the line "Submitted for the approval of the Midnight Society, I call this story..."
At the end of each meeting, save for a very few, the fire is put out with a bucket of water.
Members
Founding Members
Gene

Laing Candle

Bruce McGorrill

Eleanor Gregory

Donna Tilton
Early 1990s
Late 1990s
2010s
2020s
Luke McCoy

(2021)

Jai Malya

(2021)

Hanna Romero

(2021)

Gabby Lewis

(2021)

Seth Romero

(2021)

Connor Stevens

(2021)