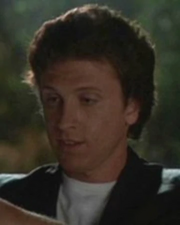 Steven Halavex is a character in Friday the 13th Part VI: Jason Lives, played by Roger Rose.
Steven and his girlfriend Annette Edwards (Cynthia Kania) are in the woods having a moonlight picnic when they hear a scream.
Steven goes to investigate and sees Jason standing over gravedigger Martin's body. He rushes back to Annette and they get on his motorcycle with the intention to go to the police; however, before they can leave Jason impales them both with his machete.