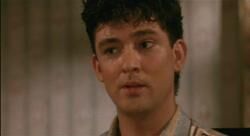 Steven "Steve" O'Donnell was the former boyfriend of Kirsty Cotton who only appears in Hellraiser and is portrayed by actor Robert Hines.
He first appears during the Cottons dining party and again when he and Kirsty were about to go home and sleep together. He is not seen until after he searches for Kirsty when she left the hospital to warn her father. After giving Frank Cotton to the Cenobites, Steve manages to find her only to encounter The Engineer. After banishing the Cenobites, he watches Kirsty burn The Lament Configuration until the Puzzle Guardian grabs the box and flies away.
Though he doesn't appear in Hellbound: Hellraiser II, he is mentioned by Detective Ronson.