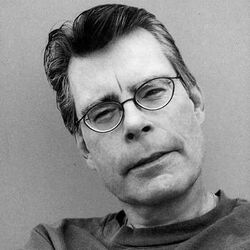 'Stephen Edwin King (born September 21, 1947) is an American author of contemporary horror, suspense, science fiction, and fantasy. His books have sold more than 350 million copies and have been adapted into a number of feature films, television movies and comic books. King has published 50 novels, including seven under the pen-name of Richard Bachman, and five non-fiction books. He has written nearly two hundred short stories, most of which have been collected in nine collections of short fiction. Many of his stories are set in his home state of Maine.
King has received Bram Stoker Awards, World Fantasy Awards, British Fantasy Society Awards, his novella The Way Station was a Nebula Award novelette nominee, and his short story "The Man in the Black Suit" received the O. Henry Award. In 2003, the National Book Foundation awarded him the Medal for Distinguished Contribution to American Letters. He has also received awards for his contribution to literature for his whole career, such as the World Fantasy Award for Life Achievement (2004), the Canadian Booksellers Association Lifetime Achievement Award (2007) and the Grand Master Award from the Mystery Writers of America (2007).
King attended Durham Elementary School and graduated from Lisbon Falls High School, in Lisbon Falls, Maine. He displayed an early interest in horror as an avid reader of EC's horror comics, including Tales from the Crypt (he later paid tribute to the comics in his screenplay for Creepshow). He began writing for fun while still in school, contributing articles to Dave's Rag, the newspaper that his brother published with a mimeograph machine, and later began selling stories to his friends which were based on movies he had seen (though when discovered by his teachers, he was forced to return the profits). The first of his stories to be independently published was "I Was a Teenage Grave Robber", serialized over three published and one unpublished issue of a fanzine, Comics Review, in 1965.
From 1966, King studied English at the University of Maine, graduating in 1970 with a Bachelor of Arts in English. That same year his first daughter, Naomi Rachel, was born. He wrote a column for the student newspaper, The Maine Campus, titled "Steve King's Garbage Truck", took part in a writing workshop organized by Burton Hatlen, and took odd jobs to pay for his studies, including one at an industrial laundry. He sold his first professional short story, "The Glass Floor", to Startling Mystery Stories in 1967. The Raymond H. Fogler Library at the University of Maine now holds many of King's papers.
After leaving the university, King earned a certificate to teach high school but, being unable to find a teaching post immediately, initially supplemented his laboring wage by selling short stories to men's magazines such as Cavalier. Many of these early stories have been published in the collection Night Shift. In 1971, King married Tabitha Spruce, a fellow student at the University of Maine whom he had met at the University's Fogler Library after one of Professor Hatlen's workshops. That fall, King was hired as a teacher at Hampden Academy in Hampden, Maine. He continued to contribute short stories to magazines and worked on ideas for novels. It was during this time that King developed a drinking problem, which would plague him for more than a decade.
1970s–1980s work
In 1973, King's novel Carrie was accepted by publishing house Doubleday. King threw an early draft of the novel in the trash after becoming discouraged with his progress writing about a teenage girl with psychic powers. His wife retrieved the manuscript and encouraged him to finish it. His advance for Carrie was $2,500, with paperback rights earning $400,000 at a later date. King and his family moved to southern Maine because of his mother's failing health. At this time, he began writing a book titled Second Coming, later titled Jerusalem's Lot, before finally changing the title to 'Salem's Lot (published 1975). In a 1987 issue of The Highway Patrolman magazine, he stated, "The story seems sort of down home to me. I have a special cold spot in my heart for it!"
Soon after the release of Carrie in 1974, his mother died of uterine cancer. His Aunt Emrine read the novel to her before she died. King has written of his severe drinking problem at this time, stating that he was drunk delivering the eulogy at his mother's funeral.
After his mother's death, King and his family moved to Boulder, Colorado, where King wrote The Shining (published 1977). The family returned to western Maine in 1975, where King completed his fourth novel, The Stand (published 1978). In 1977, the family, with the addition of Owen Phillip (his third and last child), traveled briefly to England, returning to Maine that fall where King began teaching creative writing at the University of Maine. He has kept his primary residence in Maine ever since.
In 1985 King wrote his first work for the comic book medium, writing a few pages of the benefit X-Men comic book Heroes for Hope Starring the X-Men. The book, whose profits were donated to assist with famine relief in Africa, was written by a number of different authors in the comic book field, such as Chris Claremont, Stan Lee, and Alan Moore, as well as authors not primarily associated with that industry, such as Harlan Ellison. The following year, King wrote the introduction to Batman No. 400, an anniversary issue in which he expressed his preference for that character over Superman.
The Dark Tower books
In the late 1970s, King began what became a series of interconnected stories about a lone gunslinger, Roland, who pursues the "Man in Black" in an alternate-reality universe that is a cross between J.R.R. Tolkien's Middle-earth and the American wild west as depicted by Clint Eastwood and Sergio Leone in their spaghetti westerns. The first of these stories, The Dark Tower: The Gunslinger, was first published in five installments by The Magazine of Fantasy & Science Fiction under the editorship of Edward L. Ferman, beginning in 1977 and the last in 1981. The Gunslinger was continued as a large 7-book epic called The Dark Tower, which were written and published infrequently over four decades.
In 1982, the fantasy small-press Donald M. Grant (known for publishing the entire canon of Robert E. Howard) printed these stories for the first time together in hardcover form with color and black-and-white illustrations by fantasy artist Michael Whelan, as The Gunslinger. Each chapter was named for the story previously published in magazine form. King dedicated the hardcover edition to his editor at F&SF, Ed Ferman, who "took a chance on these stories". The original print-run was only 10,000 copies, which was, by this time, a comparatively low run for a first printing of a King novel in hardcover. His 1980 novel, Firestarter, had an initial print-run in trade hardcover at 100,000 copies, and his 1983 novel, Christine, had a trade hardcover print-run of 250,000 copies, both by the much larger publisher Viking. The Gunslinger's initial release was not highly publicized, and only specialty science-fiction and related bookstores carried it on their shelves. The book was generally not available in the larger chain stores, except by special order. Rumors spread among avid fans that there was a King book out that few readers knew about, let alone had actually read. When the initial 10,000 copies sold out, Grant printed another 10,000 copies in 1984, but these runs were still far short of the growing demand among fans for this book. The Dark Tower: The Gunslinger was the beginning of his magnum opus fantasy epic. Both the first and second printings of The Gunslinger garner premium prices on the collectible book market, notably among avid readers and collectors of Stephen King, horror literature, fantasy literature, American western literature, and fans of the artwork of Michael Whelan.
In 1987, King released the second installment, The Dark Tower II: The Drawing of the Three, in which Roland draws three people from 20th-century United States into his world through magical doors. Grant published The Drawing of the Three with illustrations by Phil Hale in a slightly larger run of 30,000 copies, which was still well below King's typical initial hardcover print-run of a new book. (It, published in 1986, had an initial print-run of 1,000,000 copies, King's largest to date.) King had believed that the Dark Tower books would only be of interest to a select group of his fans, and he had resisted releasing it on a larger scale. Finally, in the late 1980s, bowing to pressure from his publishers and fans who were searching for the books (at this point fewer than 50,000 of his millions of readers would have been able to own any of the Dark Tower books), King agreed to release The Gunslinger and all subsequent Dark Tower books in trade paperback and mass market formats.
In the early 2000s King revised the original book, The Gunslinger, because he felt the voice and imagery of the original stories of the late 1970s did not seem to fit the voice of the final installment of 2004. King felt the style of the work had markedly changed during the intervening 27 years. The revised version was published in 2003 by his former hardcover publisher Viking. Grant published its hardcover limited edition of the revised version of The Gunslinger along with a prequel story set in the Dark Tower world called "The Little Sisters of Eluria" (originally published in 1998 in the collection Legends: Short Novels by the Masters of Modern Fantasy) in 2009.
Richard Bachman
In the late 1970s-early 1980s, King published a handful of short novels—Rage (1977), The Long Walk (1979), Roadwork (1981), The Running Man (1982) and Thinner (1984)—under the pseudonym Richard Bachman. The idea behind this was to test whether he could replicate his success again and to his fears that his popularity was an accident. An alternate explanation was that publishing standards at the time allowed only a single book a year.
Richard Bachman was exposed as King's pseudonym by a persistent Washington D.C. bookstore clerk, Steve Brown, who noticed similarities between the works and later located publisher's records at the Library of Congress that named King as the author of one of Bachman's novels. This led to a press release heralding Bachman's "death"—supposedly from "cancer of the pseudonym." King dedicated his 1989 book The Dark Half, about a pseudonym turning on a writer, to "the deceased Richard Bachman", and in 1996, when the Stephen King novel Desperation was released, the companion novel The Regulators carried the "Bachman" byline.
In 2006, during a press conference in London, King declared that he had discovered another Bachman novel, titled Blaze. It was published on June 12, 2007. In fact, the original manuscript had been held at King's alma mater, the University of Maine in Orono, for many years and had been covered by numerous King experts. King completely rewrote the original 1973 manuscript for its publication.
King has used other pseudonyms, such as John Swithen for The Fifth Quarter.
Car accident and thoughts of retirement
On June 19, 1999 at about 4:30 pm, King was walking on the shoulder of Route 5, in Lovell, Maine. Driver Bryan Smith, distracted by an unrestrained dog moving in the back of his minivan, struck King, who landed in a depression in the ground about 14 feet from the pavement of Route 5. According to Oxford County Sheriff deputy Matt Baker, King was hit from behind and some witnesses said the driver was not speeding, reckless, or drinking.
King was conscious enough to give the deputy phone numbers to contact his family but was in considerable pain. The author was first transported to Northern Cumberland Hospital in Bridgton and then flown by helicopter to Central Maine Medical Center, in Lewiston, Maine. His injuries—a collapsed right lung, multiple fractures of his right leg, scalp laceration and a broken hip—kept him at CMMC until July 9. His leg bones were so shattered doctors initially considered amputating his leg, but stabilized the bones in the leg with an external fixator. After five operations in ten days and physical therapy, King resumed work on On Writing in July, though his hip was still shattered and he could only sit for about forty minutes before the pain became worse. Soon it became nearly unbearable.
King's lawyer and two others purchased Smith's van for $1,500, reportedly to prevent it from appearing on eBay. The van was later crushed at a junkyard, much to King's disappointment, as he dreamed of beating it with a baseball bat once his leg was healed. King later mentioned during an interview with Fresh Air's Terry Gross that he wanted to completely destroy the vehicle himself with a pickaxe.
During this time, Tabitha King was inspired to redesign his studio. King visited the space while his books and belongings were packed away. What he saw was an image of what his studio would look like if he died, providing a seed for his novel Lisey's Story.
In 2002, King announced he would stop writing, apparently motivated in part by frustration with his injuries, which had made sitting uncomfortable and reduced his stamina. He has since resumed writing, but states on his website that:
I'm writing but I'm writing at a much slower pace than previously and I think that if I come up with something really, really good, I would be perfectly willing to publish it because that still feels like the final act of the creative process, publishing it so people can read it and you can get feedback and people can talk about it with each other and with you, the writer, but the force of my invention has slowed down a lot over the years and that's as it should be.
2000s work
In 2000, King published a serialized novel, The Plant, online, bypassing print publication. At first it was presumed by the public that King had abandoned the project because sales were unsuccessful, but he later stated that he had simply run out of stories. The unfinished epistolary novel is still available from King's official site, now free. Also in 2000, he wrote a digital novella, Riding the Bullet, and has said he sees e-books becoming 50% of the market "probably by 2013 and maybe by 2012." But he also warns: "Here's the thing—people tire of the new toys quickly."
In August 2003 King began writing a column on pop culture appearing in Entertainment Weekly, usually every third week. The column is called "The Pop of King", a play on the nickname "The King of Pop" commonly given to Michael Jackson.
In 2006, King published an apocalyptic novel, Cell. The book features a sudden force in which every cell phone user turns into a mindless killer. King noted in the book's introduction that he does not use cell phones.
In 2007, Marvel Comics began publishing comic books based on King's Dark Tower series, followed by adaptations of The Stand in 2008 and The Talisman in 2009.
In 2008, King published both a novel, Duma Key, and a collection, Just After Sunset. The latter featured 13 short stories, including a novella, N., which was later released as a serialized animated series that could be seen for free, or, for a small fee, could be downloaded in a higher quality; it then was adopted into a limited comic book series.
In 2009, King published Ur, a novella written exclusively for the launch of the second-generation and available only on Amazon.com, and Throttle, a novella co-written with his son Joe Hill, which later was released as an audiobook Road Rage, which included Richard Matheson's short story "Duel". On November 10 that year, King's novel, Under the Dome, was published. It is a reworking of an unfinished novel he tried writing twice in the late 1970s and early 1980s, and at 1,074 pages, it is the largest novel he has written since 1986's It. It debuted at No. 1 in The New York Times Bestseller List.
Community content is available under
CC-BY-SA
unless otherwise noted.