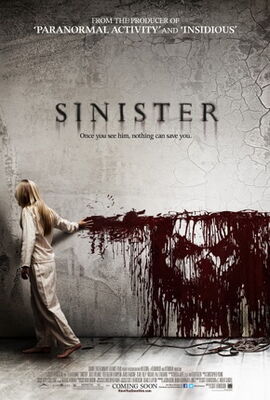 Sinister is a 2012 supernatural horror film directed and co-written by Scott Derrickson. The film stars Ethan Hawke, Juliet Rylance, James Ransone, Fred Thompson, and Vincent D'Onofrio. The plot revolves around true-crime writer Ellison Oswalt (Hawke) whose discovery of Super 8 home movies depicting grisly murders found in the attic of his new house puts his family in danger.
Sinister was inspired by a nightmare co-writer C. Robert Cargill had after watching the 2002 film The Ring. Principal photography on Sinister began in Autumn of 2011 with a production budget of $3 million. To add the authenticity of old home movies and snuff films, the Super 8 segments were shot on actual Super 8 cameras and film stock. The film was a co-production between the United States, Canada, and the United Kingdom.
The film premiered at the SXSW festival. It was released in the United States on October 12, 2012, and in the UK on October 5, 2012. Sinister received positive reviews, praising the acting, direction, music, cinematography, and atmosphere, but received some criticism for its use of jump scares (most notably the lawnmower scene) and horror cliches. The film was a box office success, grossing $87.7 million against its budget of $3 million. The film's financial success spawned a sequel, Sinister 2, released in the United States on August 21, 2015.