The Sandman Will Keep You Awake - The Loop
Play Sound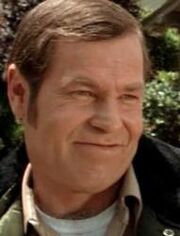 Sheriff Leigh Brackett is a recurring character in the Halloween franchise. He first appears in the original Halloween, played by Charles Cyphers. He is the Haddonfield sheriff who is contacted by Dr. Sam Loomis about his former patient Michael Myers, who has escaped from Smith's Grove Sanitarium and returned home. The two begin their search at Michael's childhood home, where Loomis tries to warn the skeptical sheriff of the danger Myers poses, explaining that Michael is pure evil and capable of further violence, despite years of catatonia. Sheriff Brackett patrols the streets while Loomis waits and watches the house, expecting Michael to return there. Loomis' prediction comes true, as Brackett's daughter Annie becomes one of Michael's victims. Sheriff Brackett also appears in the sequel, Halloween II, once again played by Cyphers. In the film, while with Loomis, Brackett receives news of the death of his daughter, Annie. Blaming Loomis for her death, Sheriff Brackett goes home to tell his wife about it, leaving Deputy Gary Hunt in charge to help Loomis. Brackett is referenced in Halloween 4, in which an officer tells Loomis that Brackett retired in 1981 and moved to St. Petersburg, Florida, his position being taken over by Sheriff Ben Meeker. The novelization of Halloween mentions Brackett, revealing he served as sheriff until his retirement in 1985.
Brackett did not appear in another Halloween film until Rob Zombie's remake, in which he is played by Brad Dourif. In this version of the story, Sheriff Lee Brackett is directly responsible for the adoption of Michael Myers' baby sister by the Strode family, having taken the child away following her mother's suicide. His daughter Annie survives Michael's killing spree, and he discovers her half-naked and tortured following Michael's attack. In the sequel to the remake, Halloween II, Sheriff Brackett has brought Laurie to live with him and Annie after the events of the previous film. Halfway through the film, Brackett tries to locate Laurie and tell her that she is Michael's sister before she finds out from Dr. Loomis' book, but he is too late. After receiving a 911 call from his home, he finds his daughter's body following Michael's rampage. As in the original film's sequel, Brackett angrily blames Loomis for Annie's death and Laurie's jeopardy. Brackett later uses a rifle to shoot Michael after Dr. Loomis lures Michael into view, which leads to Michael's death at the hands of Laurie.
Sheriff Brackett appears in Halloween literature, including the novelizations of the films. In the comic book Halloween II: The Blackest Eyes, he has obtained copies of the private journals of Dr. Loomis, which reveal large portions of the Myers family history. The Cult of Thorn kidnap Brackett and Tommy Doyle for finding out too much information about them, and during an escape attempt, Brackett is injured by Michael, and killed by the cult, with Tommy being framed for his murder. Brackett also appears in the comic book Halloween Autopsis, which follows a different timeline from The Blackest Eyes, and has Brackett still blaming Dr. Loomis for Annie's murder fifteen years later. However, in the online short story Sam, Brackett visits an older, sick Loomis and tells Marion, "Send him... send him my best wishes." In the comic book The First Death of Laurie Strode, Brackett is shown attending his daughter's funeral, insisting to Laurie Strode that Michael Myers is dead and gone.