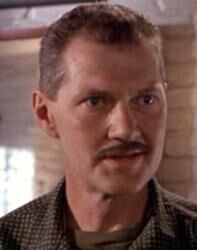 Sergeant Botnick, played by Andrew Robinson, is a character in the film Child's Play 3.
Botnick was the cruel barber at Kent Military Camp. After shaving students he would often comment "Presto, you're bald." He is seen walking through the mess hall looking for students who were in need of a trim.
After giving Harold Whitehurst a haircut, Botnick decided it would be fun to give a doll, Chucky, a shave. However, Chucky turned the tables and slit Botnick's throat with a razor.