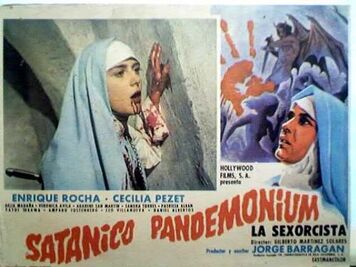 Satánico pandemonium is a Mexican cult nunsploitation horror film directed by Gilberto Martínez Solares and written from Jorge Barragán, Adolfo Martínez Solares and Gilberto Martínez Solares. It stars Cecilia Pezet, Enrique Rocha and Delia Magaña.
Plot
Sister Maria lives with the convent for her charity works, but in the secret downs of her fantasies, she becomes agonized by visions from another world, a world in which she is permitted to run free. In this world Satan is her lord, and her acts of violence and blasphemy mount.
Sister Maria realizes that she is elected by the Devil himself to destroy the convent and lead her sister nuns into hell. Only the Devil can intuit the dark secrets of her tortured mind.