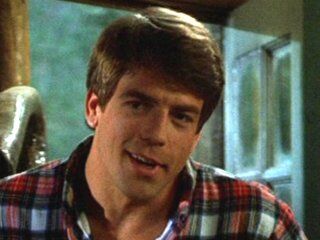 Rick Bombay is a character in Friday the 13th Part III, played by Paul Kratka.
Rick arrives at Higgins Haven to see girlfriend Chris Higgins (Dana Kimmell). They later head into the woods, but Rick's car won't start so they sit down. Chris recalls a story to Rick about an encounter with a deformed man (implied to be Jason Voorhees). She tells Rick she returned to face her fears.
On Rick's suggestion he and Chris return to Higgins Haven to find it empty in disarray with no one around. They search for their friends but find only a blood-covered sweater. Rick goes outside to search the area. Chris, concerned over the time Rick is taking, goes outside and calls to him; however, Jason has grabbed Rick in one arm with his hand over Rick's mouth. As Chris returns inside Jason crushes Rick's skull with such force one of his eyes pops out of its socket.
Rick's body is later thrown through a window that Chris is walking past.