Jurassic World: Dominion Dominates Fandom Wikis - The Loop
Play Sound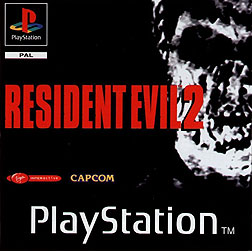 Resident Evil 2 is a 1998 survival horror video game developed and published by Capcom for the PlayStation. The player controls Leon Kennedy and Claire Redfield, who must escape Raccoon City after its citizens are transformed into zombies by a biological weapon two months after the events of the original Resident Evil. The gameplay focuses on exploration, puzzles, and combat; the main difference from its predecessor are the branching paths, with each player character having unique storylines, partners and obstacles.
Resident Evil 2 was produced by Resident Evil director Shinji Mikami, directed by Hideki Kamiya, and developed by a team of around 50 over 21 months. The initial version, commonly referred to as Resident Evil 1.5, differed drastically; it was canceled when it was around two thirds complete after Mikami decided it was inadequate. The final design introduced a more cinematic presentation.
Resident Evil 2 received acclaim for its atmosphere, setting, graphics, audio, scenarios, and overall gameplay, as well as its improvements over the original game, but with some criticism towards its controls, voice acting and certain gameplay elements. It has appeared on a number of lists of the best video games ever made. It is the best-selling Resident Evil game for a single platform, shipping 5.77 million copies on PlayStation, combining its original release on PlayStation with the DualShock release. It was ported to Windows, Nintendo 64, Dreamcast, and GameCube, and a modified 2.5D version was released for the Game.com handheld. The story of Resident Evil 2 was retold and built upon in several later games, and has been adapted into a variety of licensed works. It was followed by Resident Evil 3: Nemesis in 1999. A remake was released for PlayStation 4, Xbox One, and Windows in 2019.
Plot
On September 29, 1998, two months after the events of the first Resident Evil, most citizens of the Midwestern American mountain community Raccoon City have been transformed into zombies by the T-virus, a biological weapon secretly developed by the pharmaceutical company Umbrella. Leon S. Kennedy, a police officer on his first day of duty, and Claire Redfield, a college student looking for her brother Chris, make their way to the Raccoon Police Department. They discover that most of the police force have been killed, and that Chris has left town to investigate Umbrella's headquarters in Europe. They split up to look for survivors and find a way out of the city. While searching for an escape route, Claire meets a little girl, Sherry Birkin, who is on the run from an unknown creature, and Leon encounters Ada Wong, who claims to be looking for her boyfriend John, an Umbrella researcher from Chicago.
Raccoon City police chief Brian Irons had been bribed by Umbrella to hide evidence of the company's experiments in the outskirts of the city. He concealed their development of the new G-virus, an agent capable of mutating a human into the ultimate bioweapon. Leon has multiple encounters with a Tyrant, a monster air-dropped into the Raccoon Police Department by Umbrella to seek the G-virus. Irons tries to murder Claire but is killed by a G-virus mutant in the police department. Claire and Sherry escape through the sewers and become separated. After splitting up with Leon, Ada finds Sherry and picks up a golden pendant the girl loses while running away. Further into the sewers, Ada reluctantly teams up with Leon again, after he insists on his duty to protect her. They encounter a middle-aged woman who fires at Ada, but Leon jumps between them and takes a bullet himself. Ada ignores the unconscious Leon and follows the woman, who reveals herself to be Sherry's mother Annette and the wife of William Birkin, the Umbrella scientist who created the G-virus. In an attempt to protect his life's work from special agents sent by the Umbrella headquarters, he injected himself with the virus, which turned him into the malformed creature and is now chasing Sherry because of her genetic make-up. Annette recognizes her daughter's pendant and attempts to take it from Ada. A fight ensues, during which Annette is thrown over a railing. Ada learns that the golden locket contains a sample of the G-virus, and later – taken over by her emotions – returns to Leon, tending to his bullet wound.
Meanwhile, Claire is reunited with Sherry and discovers that William has implanted his daughter with an embryo to produce offspring. Leon, Ada, Claire, and Sherry advance through an abandoned factory connected to Umbrella's secret underground research facility. An attack by William leaves Ada heavily wounded, and Leon explores the laboratory to find something to treat her wounds. He is interrupted by a psychotic Annette, who explains to him that Ada's relationship with John was only a means of getting information about Umbrella: Ada is a spy sent to steal the G-virus for an unknown organization. Just as Annette is about to shoot Leon, the Tyrant appears, and she is forced to retreat. Ada returns to save Leon and battles the Tyrant – which falls into a pit of molten metal – seemingly at the cost of her own life. She confesses her love to Leon, who leaves behind her motionless body, however, Ada survives. Meanwhile, Annette tries to escape with another sample of the G-virus but is fatally wounded by her mutated husband. However, before she dies, she tells Claire how to create a vaccine that will stop the mutations caused by the embryo within Sherry. After preparing the cure, Leon and Claire reunite at an emergency escape train and inject Sherry with the vaccine, which saves her life. En route, Leon is assisted in terminating the now-mutated Super Tyrant by Ada who escapes with the G-virus in the pendant. William—now mutated into an agglomeration of flesh and teeth—follows Leon and Claire, but is destroyed when the train self-destructs. After escaping from the city with Sherry, Leon intends to take down Umbrella, while Claire continues to search for Chris. HUNK, one of the surviving special agents sent by Umbrella, completes his G-virus retrieval mission.