Jurassic World: Dominion Dominates Fandom Wikis - The Loop
Play Sound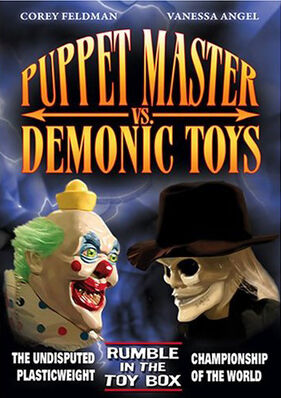 Puppet Master vs. Demonic Toys is a 2004 crossover horror film based on the characters of Charles Band and Kenneth J. Hall (Puppet Master) and David S. Goyer (Demonic Toys). The film is written by C. Courtney Joyner and directed by Ted Nicolaou.
The film stars Corey Feldman as the great-grandnephew of André Toulon and Vanessa Angel as the head of a toymaking factory who plans to dominate the world using its latest line of holiday products. It was a made-for-TV film that debuted December 18, 2004 on NBC Universal's SyFy.
The movie is a follow-up to 1993's, Dollman vs. Demonic Toys and loosely a follow-up to Puppet Master: The Legacy. And is the final installment chronologically of the Puppet Master franchise.
Plot
Robert Toulon, the great-grandnephew of André Toulon and his daughter, Alexandra Toulon have come into possession of the puppets and manage to bring them to life on Christmas Eve. Their success is noted by an evil toy manufacturer, Erica Sharpe, who is in possession of the demonic toys, but wants the puppets as the toys are not loyal to her. An initial attempt to steal the puppets is unsuccessful and only damages them with fire. Robert repairs them with new parts and weapons.
Unhappy, Erica summons the demon, Bael in order to fulfill her plans of using many demonic toys to cause mass murder and gain control of the puppets. The demon agrees, but only if she brings him Alexandra. She succeeds in kidnapping the girl, making it necessary for Robert to come to her rescue with the aid of a police sergeant, Jessica Russell and the puppets. The group is able to overwhelm and destroy the toys, as well as rescue Alexandra. Since Erica is unable to keep her end of the deal, Bael takes her to hell without fulfilling her evil plans. As the human and puppet survivors go off to enjoy Christmas Day, Baby Oopsy Daisy is shown to have survived.