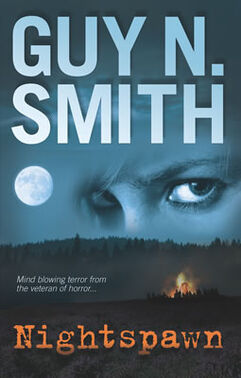 Nightspawn is a novel written by Guy N. Smith. It was first published in 2010.
Description
Sylvia Kline is a down trodden housewife dominated by an alcoholic husband but her whole life changes one afternoon when her car is involved in a minor crunch whilst collecting her children from school. During a confrontation with the other driver, Sylvia screams "I hope one day you have a proper accident!" The following day that curse comes true and the other is killed in a serious crash. Then a neighbour's straying dog is given a death wish and dies. Sylvia realises that she has psychic powers and she will use them for her own ends. Terror comes to a peaceful village. Residents cower behind locked doors and closed curtains after dark, afraid to go outside. Sylvia has become a witch and with her coven practises satanic rites up on the heath. She plans her husband Mervyn's death but this proves to be her most difficult challenge so far. Meanwhile the women of the village form a vigilante group to rid themselves of a witch who has seduced their husbands into the black art. Soon there will be another death ...
Community content is available under
CC-BY-SA
unless otherwise noted.