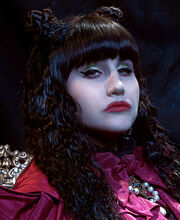 Nadja of Antipaxos, played by Natasia Demetriou, is a character in the television series What We Do in the Shadows.
Nadja is a Greek Romani vampire who turned Laszlo Cravensworth into a vampire and later married him. She is frequently frustrated with her male housemates and nostalgic about her human life.
She has entertained an affair with a reincarnated knight named Gregor for hundreds of years, only for him to be decapitated in every reincarnation.
During the second season, her ghost doppelganger (also played by Demetriou) inhabits a doll and remains in the house.