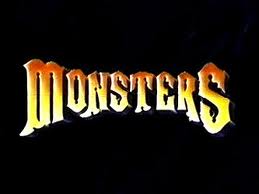 Monsters is an American syndicated horror anthology series which originally ran from 1988 to 1991 and reran on the Sci-Fi Channel (now known as Syfy) during the 1990s.
The series shares a producer (Richard P. Rubinstein) with Tales from the Darkside. Unlike Tales which sometimes featured stories of science fiction and fantasy, Monsters was more strictly horror. As the name implies, each episode (with very few exceptions) features a different monster which the story concerned, from the animatronic puppet of a fictional children's television program to mutated, weapon-wielding lab rats.
The series has featured cameos from celebrities including: Anne Meara and Jerry Stiller, Laura Branigan, Troy Donahue, Linda Blair, Deborah Harry, Kaye Ballard, Imogene Coca, Farley Granger, Pam Grier, Wil Wheaton, and Meat Loaf.