We're Getting Mutants in the MCU - The Loop
Play Sound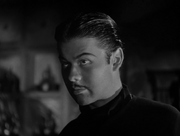 Mehemet Bey, plated by Turhan Bey, is a character in the film The Mummy's Tomb.
Mehemet Bey was tasked by The High Priest to take Kharis to kill the Banning family. He powers Kharis with tana leaves and Kharis kills both Steve Banning and his sister Jane Banning. Dr. John Banning called Babe Jenson to help out.
After Babe went to the sheriff who was no help, he tells a journalist his dilemma in a bar. He is overheard by Bey who immediately sends Kharis after him and kills him.
Bey falls for Isobel Evans on her wedding day when she was about to marry John. Banning and the rest of the townspeople have become convinced that their recent Egyptian immigrant may be involved in the crimes. Arriving in force, they confront Bey outside the hut. Kharis slips away with Isobel unbeknownst to the horde, and Bey attempts to shoot Banning, but is himself gunned down by the sheriff.
The mummy is observed heading toward the Banning estate, and the group begins pursuit, many bearing torches. Inside the home, Banning holds Kharis at bay with a torch while he rescues Isobel from the mummy's grasp, but inadvertently sets fire to some curtains. With the aid of the sheriff and coroner, John and Isobel escape via a trellis as Kharis pursues them out onto the upstairs balcony. The townspeople keep the mummy from similarly escaping by hurling additional torches at him, and the monster perishes in the flames of the thoroughly consumed house.