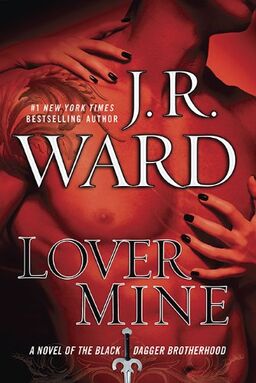 Lover Mine is the eighth book in the Black Dagger Brotherhood series by J. R. Ward. It was first published in 2010.
Synopsis
Lover Mine is John Matthew's story. It revolves around rescuing Xhex (Rehvenge's loyal friend and half sympath) from Lash (Vampire/Son of the Omega/Head of the Lessening Society). John Matthew is the reincarnation of Darius, the Brother who was killed by a car bomb in Dark Lover.
In the darkest corners of the night in Caldwell, New York, a conflict like no other rages. Long divided as a terrifying battleground for the vampires and their enemies, the city is home to a band of brothers born to defend their race: the warrior vampires of the Black Dagger Brotherhood. John Matthew has come a long way since he was found living among humans, his vampire nature unknown to himself and to those around him. After he was taken in by the Brotherhood, no one could guess what his true history was- or his true identity. Indeed, the fallen Brother Darius has returned, but with a different face and a very different destiny. As a vicious personal vendetta takes John into the heart of the war, he will need to call up on both who he is now and who he once was in order to face off against evil incarnate. Xhex, a symphath assassin, has long steeled herself against the attraction between her and John Matthew. Having already lost one lover to madness, she will not allow the male of worth to fall prey to the darkness of her twisted life. When fate intervenes, however, the two discover that love, like destiny, is inevitable between soul mates.