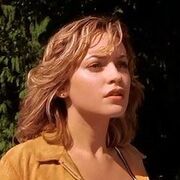 Lori Campbell is a character in Freddy vs. Jason, played by Monica Keena. Her name was inspired by both character Laurie Strode from the Halloween franchise and actress Neve Campbell who played Sidney Prescott in the horror film Scream. Being one of the few residents of Springwood who realizes Jason Voorhees is responsible for the recent string of murders there and not Freddy Krueger, Lori and her boyfriend Will, along with their friends, make several attempts to stop the latter's return to full power. After a failed attempt at retrieving the dream suppressant Hypnocil and after Jason is left comatose due to the machinations of Freddy, Lori volunteers to enter the dream world and confront Freddy there and bring him to earth; after nearly being raped by Freddy and learning he was responsible for the death of her mother as a child, Lori does successfully force him into entering the real world, where he and the reawakened Jason battle in Crystal Lake. In the end, Lori blows up the dock the two are fighting on with gasoline and propane, and later decapitates Freddy, whose body falls into the depths of Crystal Lake, along with Jason.
In an unused ending for Freddy vs. Jason, Lori dies when, while having sex with Will two months after Jason and Freddy's battle, he transforms into Freddy and proceeds to kill her. This scene is retained in the novelization of the film. A small mention of Lori is made in the novel A Nightmare on Elm Street: Suffer the Children, in which the protagonists of the book discover her online journal. In the WildStorm and Dynamite Entertainment comic miniseries Freddy vs. Jason vs. Ash, set five years after the events of Freddy vs. Jason, both Lori (spelled Laurie in the comic) and Will return to Crystal Lake (renamed Forest Green once more) to make sure Jason and Freddy are gone for good. While investigating the woods around Crystal Lake, Lori encounters Jason in a partially constructed condo after finding Will's disemboweled body in it. Fleeing from Jason, Lori is injured by him with a metal rod. Despite her injury, Lori manages to get the upper hand against Jason, finding a handheld circular saw and attacking him with it. Lori manages to knock Jason out a window and rushes outside to finish him off, only to be met at the door by him. Before Lori can attack him again, Jason kills her by splitting her head open with his machete, and proceeds to take her body and Will's to his shack in the woods.
Monica Keena has praised the depth of her character, claiming "I think Lori's a very independent and tough character. She has an arc in the film because she learns that Freddy killed her mother and that inspires her to have a need to get revenge. She's the real hero of the story." Jeff Katz, who worked on the original screenplay for Freddy vs. Jason vs. Ash, explains that Lori and Will's deaths were a way to continue the long-running tradition of Friday the 13th and Nightmare on Elm Street survivors being killed off in subsequent films.