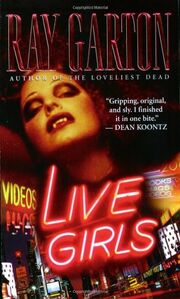 Live Girls is a novel written by Ray Garton. It was published in 1987.
Description
Davey's on the down and out when he loses his girl, his job and practically his sanity. While some men drown themselves in a forgiving bottle, Davey believes it's much more profitable to sink into Times Square's nightlife and lose himself inside Live Girls. They are the free ravishing pleasures who beckon Davey into a world of irresistible fantasy and ecstasy. One of them propositions him with a kiss, an insatiable kiss that leads him far from the misery he once felt to a demonic place where body and soul are sacrificed for obsessions.
Community content is available under
CC-BY-SA
unless otherwise noted.