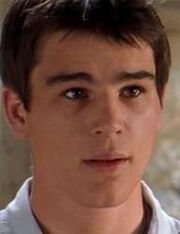 John Tate, played by Josh Hartnett, is a character in Halloween H20: 20 Years Later.
John is the son of Laurie Strode, who now is going by the name Keri Tate. His father is unknown. He is the nephew of Michael Myers and Judith Myers. He attends Hillcrest Academy, a boarding school where his mother is the headmistress. He is the only one who knows his mother's true identity after she faked her own death and assumed the name Keri Tate in order to escape her brother, Michael Myers.
However, he is also tired of her over-protectiveness and paranoia, and starts to rebel against her authority. He pretends to attend a school trip to Yosemite, but in fact remains at Hillcrest and throws a Halloween party with his friends and his girlfriend, Molly Cartwell. Michael shows up and murders John's friends before attacking his nephew. John suffers a stab wound to the thigh, but he and Molly escape the school with Laurie's help.
In Halloween: Resurrection, John appears briefly in a photograph kept by Laurie, who is put in a mental institution, but his mother is later killed by her brother; his fate after the events of H20 and Resurrection is unknown, presumably escaping the uncle's murderous spree.