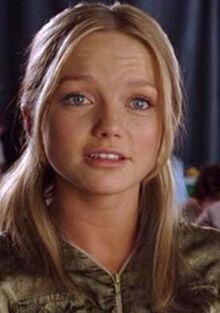 Joan, played by [[]], is a character in the film Seed of Chucky.
Joan is an agent for a fictionalized Jennifer Tilly. She informs her of an upcoming film directed by Redman. After Jennifer doesn't get the role, she tells Joan she's going to get it with sexual favors. Joan tries to talk her out of it to no avail.
The next morning, Jennifer calls Joan regarding her pregnancy but Joan can hear Jennifer struggling over the phone. Joan shows up and finds Redman's dead body and Jennifer and Jennifer's chauffeur Stan tied to the bed. She doesn't realize Chucky is sneaking up behind her with a knife until Jennifer finally manages to remove her gag and warn her. Before Chucky can kill her, Glenda kills her with a candle and a can of hairspray, setting her on fire. She tumbles down the stairs and is extinguished when she hits the floor below.