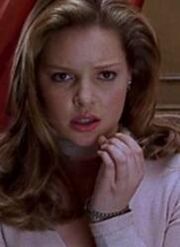 Jade Kincaid, played by Katherine Heigl, is a character in the film Bride of Chucky.
Jade is Jesse Miller's girlfriend. Her uncle Chief Warren Kincaid does not like the fact she's dating him. He attempts to set Jesse up for marijuana possession and is killed by Chucky and Tiffany early in the film.
She and Jesse are followed by a trail of strange deaths until they are implicated in a double homicide in a motel they were staying at. They become suspicious of one another until Chucky reveals himself as the killer.
In the end, Jade shoots Chucky and she and Jesse leave the scene. She also appears with Jesse in another struggle with Chucky in a comic book continuation.