Jurassic World: Dominion Dominates Fandom Wikis - The Loop
Play Sound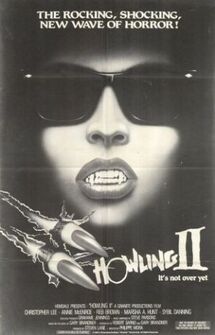 Howling II: Your Sister Is a Werewolf (also known as Howling II and Howling II: Stirba – Werewolf Bitch) is a 1985 American horror film directed by Philippe Mora and direct sequel to the 1981 film The Howling. The film stars horror film veteran Christopher Lee along with Reb Brown and Annie McEnroe as they try to defeat Sybil Danning's werewolf queen Stirba and stop a werewolf group's plans to conquer the world. Although Gary Brandner, author of The Howling novels, co-wrote the screenplay, the Howling II: Your Sister Is a Werewolf is largely unrelated to his 1979 novel The Howling II.
Plot
Ben White (Reb Brown) attends the funeral of his sister, journalist Karen White, the heroine of the previous film. Following her interment in a mausoleum, Ben meets both Jenny Templeton (Annie McEnroe), one of Karen's colleagues, and Stefan Crosscoe (Christopher Lee), a mysterious interloper who tells him Karen was a werewolf. Providing videotaped evidence of the transformation – and turning up to destroy Karen as her undead body rises from the grave – Crosscoe convinces Ben and Jenny to accompany him to Transylvania to battle Stirba (Sybil Danning), an immortal werewolf queen. Along the way, the trio encounter Mariana (Marsha Hunt), another lusty werewolf siren, and her minion, Erle (Ferdy Mayne).
Arriving in the Balkans, Ben and company wander through an ethnic folk festival, unaware that Stirba is off in her nearby castle already plotting their downfall. Stirba seems to have powers of witchcraft, as well as being a werewolf, for she intones the Wiccan chant Eko Eko Azarak. Eventually, the adventurers battle with Stirba in an assault that involves disguised dwarfs, mutilated priests, and supernatural parasites, before Stirba is destroyed by Stefan at the cost of his own life. Ben and Jenny return home, where they become a couple and are greeted by a werewolf disguised as their neighbor's child. They go to the neighbor's house and ask about the child, to which the neighbor replies that he has no child, confirming their suspicions that the child was, in fact, a werewolf.