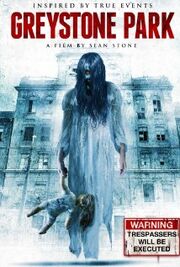 Greystone Park is a 2012 found footage horror film written by Sean Stone and Alexander Wraith, directed by Sean Stone and starring Sean Stone, Alexander Wraith, Antonella Lentini, Oliver Stone and Bruce Payne.
Plot
The film is based on the true life experiences of film makers Sean Stone and Alexander Wraith. They met at a dinner with Oliver Stone when Wall Street: Money Never Sleeps was being filmed in October 2009, where they started to discuss ghost stories.
As a result, Sean and Alexander decided to visit an abandoned psychiatric hospital in New Jersey, famous for its radical treatment of patients with mental illness, 'to explore whether or not they believe in the supernatural'. Once inside the institution they soon discovered that they were not alone.