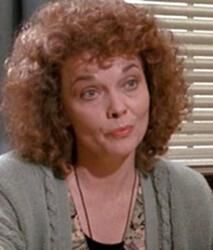 Grace Poole, played by Grace Zabriskie, is a character in the film Child's Play 2.
Grace is a social worker in charge of the group home which houses Andy Barclay. She assigns Andy to Joanne and Phil Simpson, hoping they will be able to give him a fresh start. Though Joanne is happy, Phil is cautious, wondering if Andy has psychological problems. When Chucky calls, posing as Andy's uncle Charles, she gives him the Simpsons' address, giving him the opportunity to track down Andy.
After Chucky kills several of those around Andy, he is returned back to Grace, who still takes him in and takes care of him. Chucky stabs Graces several times in the chest and she dies on the copier as it spits out copies of her face.