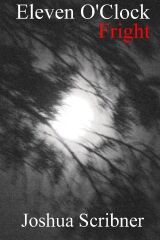 Eleven O'Clock Fright is a novel written by Joshua Scribner. It was first published in 2006.
Description
Shortly after the death of his wife, Dr. Kurt Snaber packs up and moves to a new state to start over. Unfortunately, he brings with him the disembodied voices of his overbearing mother and dead wife. On the advice of a friend, he turns to meditation to silence the unwelcome voices. Little does he know that while meditating he'll witness something that will change his life forever or that it will return every night at 11:00 o'clock.
Community content is available under
CC-BY-SA
unless otherwise noted.