Jurassic World: Dominion Dominates Fandom Wikis - The Loop
Play Sound
| | | | | |
| --- | --- | --- | --- | --- |
| | Movies | Music | Timeline | Awards |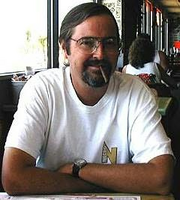 Edward Lee is an American novelist specializing in the field of horror who has written 40 books, more than half of which have been published by mass-market New York paperback companies such as Leisure/Dorchester, Berkley, and Zebra/Kensington. He is a Bram Stoker award nominee for his story "Mr. Torso," and his short stories have appeared in over a dozen mass-market anthologies, including the award-winning 999. Several of his novels have sold translation rights to Germany, Greece, Romania, and Poland. He also publishes quite actively in the small-press/limited-edition hardcover market; many of his books in this category have become collector's items. While a number of Lee's projects have been optioned for film, only one has been made, Header, which was released on DVD in June, 2009.
Lee is particularly known for over-the-top occult concepts and an accelerated treatment of erotic and/or morbid sexual imagery and visceral violence. He was born on May 25, 1957 in Washington, D.C., and grew up in Bowie, Maryland. In the late-70s he served in the U.S. Army's 1st Armored Division, in Erlangen, West Germany, then, for a short time, was a municipal police officer in Cottage City, Maryland. Lee also attended the University of Maryland as an English major but quit in his last semester to pursue his dream of being a horror novelist. For over 15 years, he worked as the night manager for a security company in Annapolis, Maryland, while writing in his spare time. In 1997, however, he became a full-time writer, first spending several years in Seattle and then moving to Largo, Florida, where he currently resides.
Lee cites as his strongest influence horror legend H. P. Lovecraft; in 2007, Lee embarked on what he calls his "Lovecraft kick" and wrote a spate of novels and novellas which tribute Lovecraft and his famous Cthulhu Mythos. Among these projects are "Trolley No. 1852," "Pages Torn From A Travel Journal," "The Innswich Horror," and "The Dunwich Romance." Lee promises more Lovecraftian work on the horizon.