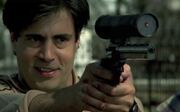 Rick Cologne is a character in Friday the 13th Part VI: Jason Lives portrayed by Vincent Guasteferro.
Rick serves as Sheriff Mike Garris's right-hand man, agreeing with Garris's disbelief that Jason returned. While Garris and the other officers investigate the camp, Rick guards Garris and Tommy, only to be locked in a jail cell. In some edits of the movie Rick can be seen trying to retrieve the cell keys with a towel only to lose his grip on it and then scream in frustration.
In Friday the 13th: The Game the Jarvis Tapes reveal that Rick may have changed his name to Pastori, relocated and possibly had been murdered by serial killer Horace Pinker.