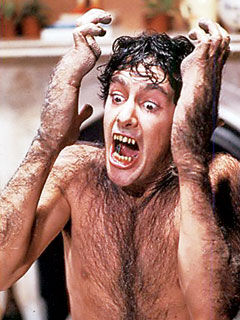 David Kessler, played by David Naughton, is a character in the 1981 film An American Werewolf in London.
David and his friend Jack Goodman are backpacking in the moors of Yorkshire when they are attacked by a wild animal. Jack is killed and David is badly injured. Nearby pub goers kill the animal, which David notices turns into a man before he passes out.
Before long, he has visions of Jack, still tattered and slowly deteriorating, warning him that he's a werewolf. But before David can do anything about it, he has a painful transition into a wolf and terrorizes London.
Victims
Deer - Eaten by David Kessler
Harry Berman - Mauled to death by David Kessler
Judith Brown - Mauled to death by David Kessler
Alf - Mauled to death by David Kessler
Ted - Mauled to death by David Kessler
Joseph - Mauled to death by David Kessler
Gerald Bringsley - Mauled to death by David Kessler
Men - Eaten alive by David Kessler
Men - Eaten alive by David Kessler
Men - Eaten alive by David Kessler
Men - Eaten alive by David Kessler
Projectionist - Eaten alive by David Kessler
Usher - Eaten alive by David Kessler
Inspector Villiers - Head bitten off by David Kessler