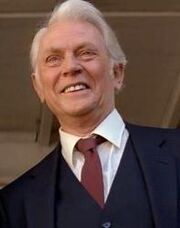 Conal Cochran is a primary antagonist of Halloween III: Season of the Witch and is played by Dan O'Herlihy.
He is the owner of Silver Shamrock Novelties and devises a plan to kill children using his popular Halloween masks. At the end of the film, he is vaporized by the Stonehenge rune he was using to create his masks.
In the novelization of the film, it implies that he may have survived, however, with the magic of Stonehenge transporting him to another location rather than killing him.
Victims