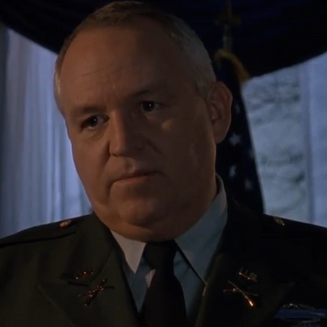 Colonel Cochran, played by Dakin Matthews, is a character in the film Child's Play 3.
Cochran is the Kent Military School commandant. He begrudgingly enrolls Andy Barclay after Andy cannot cope in several foster homes, but advises him to forget his "fantasies" about the doll.
When Ronald Tyler winds up with the Chucky doll, he nearly has his soul transferred until Cochrane finds them in a storage room and throws Chucky into a dump truck. That leads to the garbage truck driver to be killed by Chucky who lures him into the back of the truck where he is crushed.
When Chucky comes for him, Tyler plays hide-and-seek in Cochrane's office, where Chucky finds him and attempts to possess Tyler again. However, they are interrupted by Kristin De Silva and Jackie Ivers, and moments later, Cochrane himself. The cadets leave and a knife-wielding Chucky suddenly confronts Cochrane, shocking him into suffering a fatal heart attack.