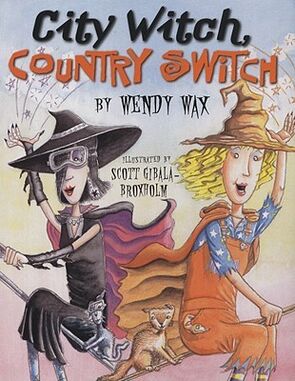 City Witch, Country Switch is a children's book written by Wendy Wax and illustrated by Scott Gibala-Broxholm. It was first published in 2008.
Description
Mitzi is a city witch—she likes pizza and plays, crowded subways and noisy streets. Muffletump is a country witch—she prefers hayrides and fresh air, pumpkin picking and her pet snake. When the cousins visit each other, their differences come between them.
How can they solve their problem? With a spell, of course!
But finding the right one isn't so easy. The rhyming text makes this a wonderful read-aloud, while the vibrant watercolor and colored-pencil artwork contains fantastically funny details for kids to pore over.