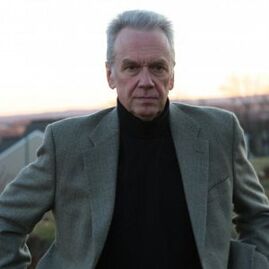 Chet Williamson (born June 19, 1948) is the author of nearly twenty books and over a hundred short stories published in The New Yorker, Playboy, Esquire, and many other magazines and anthologies.
Williamson was born in 1948 in Lancaster, Pennsylvania. He attended Indiana University of Pennsylvania, receiving a B.S. in 1970, and went on to be a teacher at public schools in Cleveland, Ohio, then he became a professional actor before becoming a freelance writer in 1986. His earlier novels include Second Chance, an ecological thriller/romance, Ash Wednesday, Reign and Dreamthorp. His story, "Gandhi at the Bat", was made into a short film by Stephanie Argy and Alec Boehm. Figures in Rain, a collection of Williamson's short stories, won the International Horror Guild Award. He has been shortlisted twice for the World Fantasy Award, six times for the Horror Writers Association's Bram Stoker Award, and once for the Mystery Writers of America's Edgar Award. His books have been translated and published in many languages and countries, including France, Germany, Russia, Italy and Japan. Many of his out of print books have been reprinted as e-books by Crossroad Press.
Williamson has also worked in the field of theatre, and a ghost story/psychological thriller, "Revenant," was produced at Theater of the Seventh Sister in Lancaster PA. From 2001 to 2007, he was the lead singer and guitarist for the Irish duo Fire in the Glen, in which he was partnered with fiddler and bodhranist Tom Knapp. A lifelong member of Actors' Equity Association, he eventually resumed his acting career, and has performed in plays and musicals at Lancaster's Fulton Opera House and Theater of the Seventh Sister. In 2010 he began recording performances of Andrew Vachss's short stories, as well as some of his own, for the MPformance.com website (www.MPformance.com). He has also recorded unabridged audiobooks of several of his novels, as well as works by Michael Moorcock, Tom Piccirilli, and Zoe Winters for Crossroad Press/Springbook Audio.
Williamson is the author of one of the horror and fantasy field's true rarities, Kaikon, a chapbook published by Phantasmagoria Publications of Toronto. The chapbook, consisting of one previously published story, "The Pebbles of Sai-No-Kawara," and one new story, "Blanket Man," was printed in 2006, but the publisher did not release the book because of production difficulties with the accompanying wooden and resin box. Of the edition of 200 copies, the publisher sent a number of copies to the author. There are no plans to further distribute the book.
Community content is available under
CC-BY-SA
unless otherwise noted.