The Sandman Will Keep You Awake - The Loop
Play Sound
| | | | | |
| --- | --- | --- | --- | --- |
| | Movies | Music | Timeline | Awards |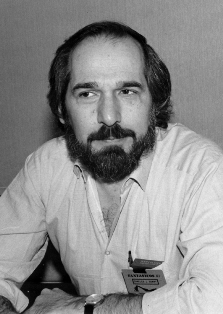 Charles Lewis Grant (September 12, 1942 – September 15, 2006) was a novelist and short story writer specializing in what he called "dark fantasy" and "quiet horror." He also wrote under the pseudonyms of Geoffrey Marsh, Lionel Fenn, Simon Lake, Felicia Andrews, and Deborah Lewis.
Grant won a World Fantasy Award for his novella collection Nightmare Seasons, a Nebula Award in 1976 for his short story "A Crowd of Shadows", and another Nebula Award in 1978 for his novella "A Glow of Candles, a Unicorn's Eye," the latter telling of an actor's dilemma in a post-literate future. Grant also edited the award-winning Shadows anthology, running eleven volumes from 1978-1991. Contributors include Stephen King, Ramsey Campbell, Al Sarrantonio, R. A. Lafferty, Avram Davidson, and Steve Rasnic and Melanie Tem. Grant was a former Executive Secretary and Eastern Regional Director of the Science Fiction and Fantasy Writers of America and president of the Horror Writers Association. His story "Temperature Days on Hawthorne Street" was adapted into an episode of Tales from the Darkside entitled "The Milkman Cometh" in 1987.
Grant wrote twelve books (eight novels and four collections of four related novellas each, with interstitial material) set in the fictional Connecticut town of Oxrun Station. (See the starred titles below.) Three of these were intentionally pastiches of classic Universal and Hammer horror films, and feature a vampire, a werewolf, and an animated mummy. There is a loose continuity running through the Oxrun Station books, with characters from one novel making minor appearances in others.