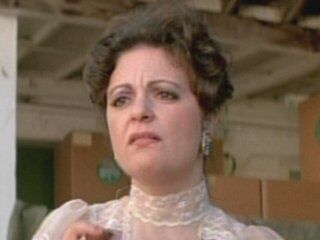 Betty Kupfer, played by Jadeen Barbor, is a character in the film Halloween III: Season of the Witch.
Betty is the wife of Buddy Kupfer and mother of Buddy Kupfer, Jr.. The three of them are invited, along with Dr. Daniel Challis and Ellie Grimbridge on a tour of the Silver Shamrock Novelties facility.
Betty, her husband and son are taken to a private room where Buddy Jr. puts a Silver Shamrock mask on. He sits in front of the television while the Silver Shamrock commercial place. The boy seems to be in distress and falls to the floor, his head turned into bugs and snakes.
Betty and Buddy Sr. are both overwhelmed and killed as well.