Jurassic World: Dominion Dominates Fandom Wikis - The Loop
Play Sound
| | | | | | |
| --- | --- | --- | --- | --- | --- |
| Books | Movies | Games | Music | Timeline | Slideshow |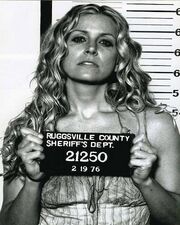 Besides Mama Firefly, her mother, Baby is the only female member of the Firefly family. In The Devil's Rejects her father is revealed to be Captain Spaulding. In the first film, Mary Knowles describes Baby as being a "slut" and a "redneck whore," which later results in her gruesome demise. In House of 1000 Corpses she hitchhikes and lures the teenagers into visiting the farm (a nod to the classic hitchhiker scene in the 1974 film The Texas Chainsaw Massacre). She shows a liking to Bill that his girlfriend Mary didn't take kindly to which prompted the four to try and leave. After they were captured, she took part in the demise of Bill that involved severing his limbs.
Baby approached Jerry wearing one of the dead cheerleader's uniforms and scalped him when he failed to answer who her favorite actor was. Otis Driftwood, who is the adoptive brother of Baby, was going to shoot Mary when she tried to escape at the ritual ground, but Baby insisted to go after her that resulted in Mary being stabbed to death. She escapes the police in The Devil's Rejects and goes on the rampage with her father and Otis. In the end they are shot and arrested by the police when trying to drive through a roadblock. In the Rob Zombie song "Pussy Liquor" it is stated that Earl (presumably Earl Firefly/"The Professor") is the biological father of both Baby and Tiny. Baby's actual given name (seen on a wanted poster in The Devil's Rejects) is Vera Ellen, though her mother has also referred to her daughter as "my Angel".
In 3 From Hell Baby, Otis, and Spaulding barely survive the shooting and fully recover before being sentenced to death row in prison. Spaulding gets executed by lethal injection while Baby and Otis spend 10 years in prison. She is shown to have become even more insane, even hallucinating a cat doing ballet. After Otis and his half-brother Foxy escape the law and have Warden Virgil sneak Baby out of prison before killing him; Baby is shown now to be more independent of herself and controlling, much to Otis's surprise. The trio then decide to move to Mexico as their next escape route.
They arrive and have a night partying but are soon under attack by Rondo's son Aquarius. Baby manages to kill most of his hitmen with a bow and arrow she took from Virgil's house. Baby and Foxy are captured and are tied up. While they watch Otis machete battle one of Aquarius's men, Sebastian helps untie them before being fatally shot by a hitman. The trio overthrow Aquarius and then set him on fire right before they walk into the distance.