We're Getting Mutants in the MCU - The Loop
Play Sound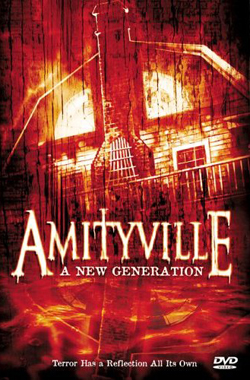 Amityville: A New Generation is a 1993 American supernatural horror film directed by John Murlowski. It is the seventh film based on the Amityville Horror. It was released direct to video in 1993. Republic Pictures released this movie in R-rated and unrated versions. Lionsgate Home Entertainment (under license from FremantleMedia North America) has released this film to DVD in July 2005.
Plot
Before the DeFeos moved into 112 Ocean Avenue in Amityville, the house was occupied by the Bronners. In 1966, the Bronner family's eldest son, Franklin, killed his parents and two siblings during Thanksgiving dinner. Bronner, who had a long history of mental illness, claimed to have committed the familicide at the behest of otherworldly forces that resided within the house, and was committed to Danamore State Hospital. Years later, Bronner was visited by his wife and their young son, Keyes Terry. Bronner, despite being sedated, killed his wife in front of Keyes. Keyes repressed the memory of visiting Danamore, and never received any kind of notification about his father being discharged from it in 1986.
In 1993, Keyes, now a photographer, lives in an inner city boarding house with his girlfriend, Llanie. The boarding house is owned by Dick Cutler, and its other tenants include a painter named Suki, and a sculptor named Pauli. Bronner tracks down Keyes, and gives him a mirror that he took from the house in Amityville. The mirror is demonic, and it kills Suki and her ex-boyfriend, Raymond. After Bronner is found dead, Keyes begins looking into his past, and realizes that Bronner was his father after visiting Danamore.
The demon in the mirror assumes Suki's form to kill Dick, and afterward begins tormenting Keyes by turning into Bronner. Keyes gets sucked into the mirror, which brings him to a Hellish version of Danamore where he encounters undead versions of Raymond, Suki, Dick, and Bronner. The demon then returns Keyes to the real world, and makes it clear that it wants Keyes to reenact the massacre of the Bronner family by shooting Llanie, Pauli, and Dick's wife at the boarding house's Thanksgiving art show. Keyes resists the demon's influence and breaks the mirror, which prompts his friend Detective Clark to sardonically quip, "Seven years bad luck."