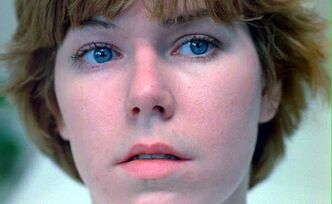 Alice Hardy, played by Adrienne King, is a character who appears in Friday the 13th and Friday the 13th Part II.
After moving east, Alice helps Steve Christy to bring Camp Crystal Lake up to code for the upcoming Summer Camp Season. Jack Marand, Marcie Cunningham, Ned Rubenstein, Bill, and Brenda show up and pitch in.
Alice doesn't realize that the other counselors are being murdered one-by-one. Once she is finally confronted by the dead bodies of her new friends, Pamela Voorhees shows up. Alice comes to realize Pamela is insane and is forced to defend herself. Alice finally ends the threat by beheading Pamela.
In Friday the 13th Part II, Alice is haunted by nightmares from the events of Friday the 13th. She has a conversation with her mother on the phone. Afterward she opens the refrigerator and finds the severed head of Pamela. She backs away, horrified, and bumps into Jason Voorhees. who stabs her in the temple with an ice pick.