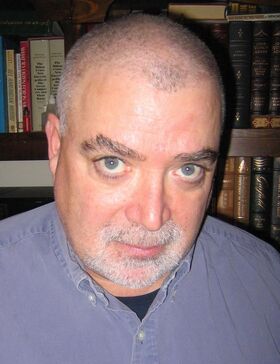 Al Sarrantonio (born May 25, 1952 in New York, New York) is an author who has published, over the past 35 years, more than 45 books and 80 short stories. He has also edited numerous anthologies and has been called "brilliant" and "a master anthologist" by Booklist.
In 1976 Sarrantonio began an editing career at a major New York publishing house. His first short fiction, "Ahead of the Joneses," appeared in Isaac Asimov's Science Fiction Magazine in 1978, followed by a story in Heavy Metal magazine the following year. In 1980 he published 14 short stories. In 1982, after leaving publishing to become a full-time writer, he began his first novel, The Worms, followed by Campbell Wood, Totentanz and The Boy with Penny Eyes. He established himself in the horror field with such much-anthologized stories as "Pumpkin Head", "The Man With Legs", "Father Dear," "Wish", and "Richard's Head," (all of which appear in his first short story collection, Toybox). "Richard's Head" brought him his first Bram Stoker Award nomination.
Sarrantonio is writing a horror saga revolving around Halloween, which takes place in the fictional upstate New York town of Orangefield (novels: Halloweenland, Hallows Eve and Horrorween, the last of which incorporates three shorter Orangefield pieces: the short novel Orangefield, and novelettes Hornets and The Pumpkin Boy). Other horror novels include Moonbane, October, House Haunted and Skeletons. He has also written Westerns (West Texas and Kitt Peak), mysteries (Cold Night and Summer Cool) and science fiction (the Edgar Rice Burroughs-inflected trilogy Haydn of Mars, Sebastian of Mars and Queen of Mars, omnibused as Masters of Mars by the Science Fiction Book Club, 2006).
Sarrantonio was book reviewer for Night Cry magazine, the short-lived digest-sized offshoot of the Twilight Zone Magazine, and has been a critic and columnist for other publications.
Community content is available under
CC-BY-SA
unless otherwise noted.