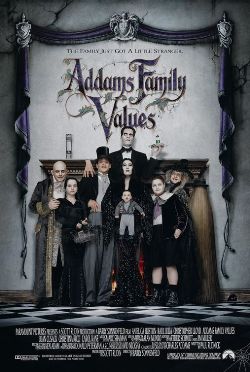 Addams Family Values is a 1993 American comedy film directed by Barry Sonnenfeld and written by Paul Rudnick, based on the characters created by Charles Addams. It is the sequel to The Addams Family (1991). The film features almost all the main cast members from the original film, including Anjelica Huston, Raul Julia, Christopher Lloyd, Christina Ricci, Carel Struycken, Jimmy Workman and Christopher Hart. Joan Cusack plays Debbie Jellinsky, a serial killer who marries Fester Addams (Lloyd) intending to murder him for his inheritance, while teenagers Wednesday (Ricci) and Pugsley (Workman) are sent to summer camp. Compared to its predecessor, which retained something of the madcap approach of the 1960s sitcom, Addams Family Values is played more for very dark and macabre laughs.
The film was well received by critics, in contrast to its predecessor's mixed critical reception. However, unlike the first movie, it was a box office disappointment, earning $48.9 million on a budget of $47 million. This was also the final film starring Julia to be released in his lifetime.
Plot
Gomez and Morticia Addams hire a nanny named Debbie Jellinsky to take care of their newborn son Pubert after his older siblings (Wednesday and Pugsley)'s failed attempts to kill him, for which Gomez and Morticia gently rebuke them.
Unbeknownst to them, Debbie is a serial killer who marries rich bachelors and murders them to collect their inheritances. After Debbie seduces Uncle Fester, Wednesday becomes suspicious of her intentions. To maintain her cover, Debbie tricks Gomez and Morticia into believing Wednesday and Pugsley want to go to summer camp.
Wednesday and Pugsley are sent to Camp Chippewa, managed by the always cheerful and lively Gary and Becky Granger, where they are singled out by the counselors and popular (and snobbish) girl Amanda Buckman for their macabre appearance and behavior. Joel Glicker, a nerdy bookworm and fellow outcast, becomes attracted to Wednesday. Debbie and Fester become engaged.
At her bachelorette party, Debbie is repulsed by the Addams family and their relatives. On their honeymoon, she tries to kill Fester by throwing a boombox into the bathtub, but she fails. Frustrated, Debbie forces him to cut ties with his family; when they try to visit Fester and Debbie at their home, they are removed from the premises. The Addams are alarmed to find that Pubert has transformed into a blue-eyed, rosy-cheeked, blond-haired baby. Grandmama diagnoses this as a result of his disrupted family life and Gomez becomes horribly depressed.
At camp, the counselors cast Wednesday as Pocahontas in Gary's racist Thanksgiving play. When she refuses to participate, she, Pugsley, and Joel are all sent to the camp's "Harmony Hut", where they are forced to watch several upbeat, heartwarming Disney and family films. Afterwards, the three feign cheerfulness and Wednesday agrees to take part. However, during the performance, she reveals her deception and returns to her old self and stages a coup, with the help of her brother and Joel, with fellow outcast campers. They capture Amanda, Gary, and Becky, and set the camp on fire. Later, Wednesday and Joel share their first kiss before separating for a time, with Joel staying behind to lead their friends to ensure the camp's permanent destruction while the Addams siblings return home via a hijacked camp van.
Debbie tries to kill Fester by blowing up their mansion, but he survives. She then pulls a gun and reveals she never loved him and that she was only interested in his money. The Thing drives Debbie's car into her and helps Fester escape. Fester apologizes to Gomez upon his return to the Addams' house, and Wednesday and Pugsley return, successfully reuniting the family together. Debbie takes another car and drives to Fester's house, where she ties the family to electric chairs, explaining—while the Addamses listen sympathetically—that she killed her parents and two previous husbands for incredibly frivolous and materialistic reasons. Upstairs, the now-restored-to-normally pale, moustached Pubert escapes from his crib and, via a series of improbable events, is propelled by the bowling ball into the room where the family is being held. Debbie throws the switch to electrocute them, but Pubert manipulates the wires and reverses the current, electrocuting her instead and incinerating her into a pile of ash and credit cards by rescuing all of his family members from their deaths, fulfilling the family's creed of vengeance against those who cross them.
Some time later, at Pubert's first-birthday party (attended by all the Addams relatives and Joel), Fester laments Debbie's loss, but soon becomes smitten with Dementia (the new baby nanny for Cousin Itt and his wife, Margaret). In the family graveyard, Wednesday tells Joel that Debbie was a sloppy killer and she would instead scare her husband to death. As Joel lays flowers on Debbie's grave, a hand emerges from the earth and grabs him; he screams while Wednesday smiles.