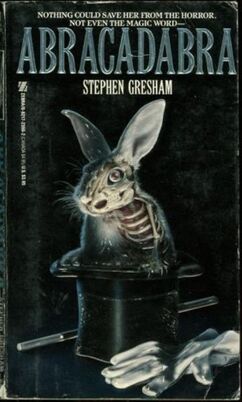 Abracadabra is a novel written by Stephen Gresham. It was first published in 1988.
Description
Eleven-year-old Juice Smith's favorite place in the whole world was the old abandoned Wilner Theatre. There on its dark and dusty stage she could pretend to be "Juice the Magnifico" performing magic with her bag of tricks. Her grandfather, a long-time member of the local Sleights-of-Hand, had given her a special skeleton key, and to Juice's surprise it fit right in the lock of the ornate old trunk that had been left backstage....
The Sleights-of-Hand were furious when they discovered at their next meeting that Nat Smith had given his skeleton key - the skeleton key - to his granddaughter. Nat wondered what they could possible be afraid of after all these years. But once by one over the next few weeks, the venerable members of the Sleights-of-Hand would find their magical talents failing them at crucial - and gruesome - moments. And Nat would discover there was good reason to be afraid. Very afraid.