Jurassic World: Dominion Dominates Fandom Wikis - The Loop
Play Sound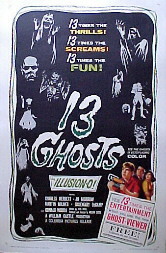 13 Ghosts is a 1960 American supernatural horror film produced and directed by William Castle, written by Robb White, and starring Jo Morrow, Rosemary DeCamp, Martin Milner, Donald Woods, Charles Herbert, and experienced character actress Margaret Hamilton. 13 Ghosts was released in 1960 on a double bill with either 12 to the Moon, The Electronic Monster, or Battle in Outer Space, depending on the film market.
Plot
When occultist uncle Dr. Plato Zorba bequeaths a large house to his nephew Cyrus and his impoverished family, they are shocked to find the house is haunted by 12 ghosts. Their furnished residence comes complete with a creepy housekeeper Elaine, and a hidden fortune concealed somewhere on the property. The spirits include: a wailing lady, clutching hands, a fiery skeleton, an Italian chef continuously murdering his wife and her lover in the kitchen, a hanging lady, an executioner holding a severed head, a fully grown lion with its headless tamer, a floating head, and of Plato Zorba himself, all held captive in the eerie house looking for an unlucky 13th ghost to free them. Dr. Zorba leaves a set of special goggles, the only way of seeing the ghosts.
The executor of Zorba's will, Benjamin Rush, knows of the hidden money and wants it for himself. He tricks Cyrus' son, Buck, into searching for the money secretly, then attempts to kill Buck after the boy finds the cash, using the same method he used to kill Plato Zorba, a 4-poster bed which has been designed to have the canopy crush the body. Zorba's ghost appears driving the terrified Rush under the canopy as Buck wakens and escapes. The next morning, Cyrus and his family count the discovered money and decide to stay in the house. Buck keeps the mask Benjamin used earlier to scare Buck's older sister and Elaine states that the ghosts have left for now, but will be back. The special goggles are blown into smithereens by an unknown force witnessed by Elaine.